Travelling has the unending ability to broaden our horizons and impart priceless new lessons. However, how can you truly claim to have travelled somewhere if you haven't sampled the local cuisine?
Food should pique our curiosity and awaken our senses. As a nation's cuisine is handed down orally from generation to generation, it's distilled in front of our very eyes every time we order. It is the purest form of a country's expression and the most genuine method to experience one's culture. Because you're not just tasting the local flavours; you're dipping into a people's psyche and history.
Greece is the melting pot of the Eastern Mediterranean where many different cultures met and married, each one leaving some of its culinary legacy behind. At Amada Colossos, we honour this illustrious culinary past in a genuine and significant way. Time for a filling summer vacation! "Our specialities" are kindness and love.
Konstantinos Vasileiou
, our Executive Chef, will see to it!
To dine together is a celebration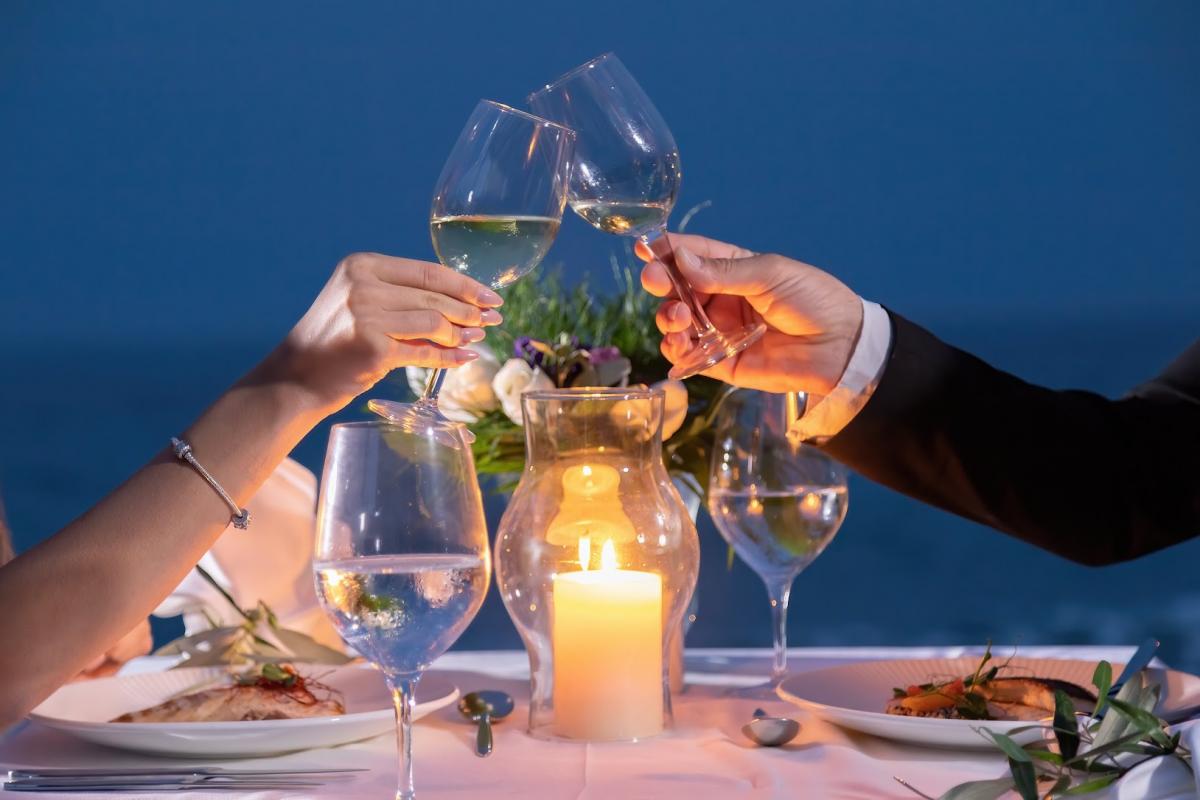 To kick things off, there's no better setting to celebrate our common love for food than our Main Restaurant. Every night is a themed night. Yes, you read that right. Every night! You can explore delicious local delicacies at our Greek – Rhodian night, get a taste of the Mediterranean during our Fish night, set fireworks off in your mouth at our Mexican night, explore the mystical ways of the East during our Asian night, or be finessed during our Italian night.
From start to finish, we'll wow you with mouthwatering entrees that will pique your appetite and make you eager for what lies ahead. The main courses? *chef's kiss* You'll be fascinated by them, amazed by them, and wish you had a thesaurus to describe how much you'll adore them. And the cherry on top, if only metaphorically speaking? Our delicious dessert choices. Since, in the words of the Greeks, "there's always room for a little dessert!"
House favourites
In the grand scheme of things, our main restaurant is our "appetizer". Feel like falling even further down the rabbit hole? That's what our à la carte restaurants are for!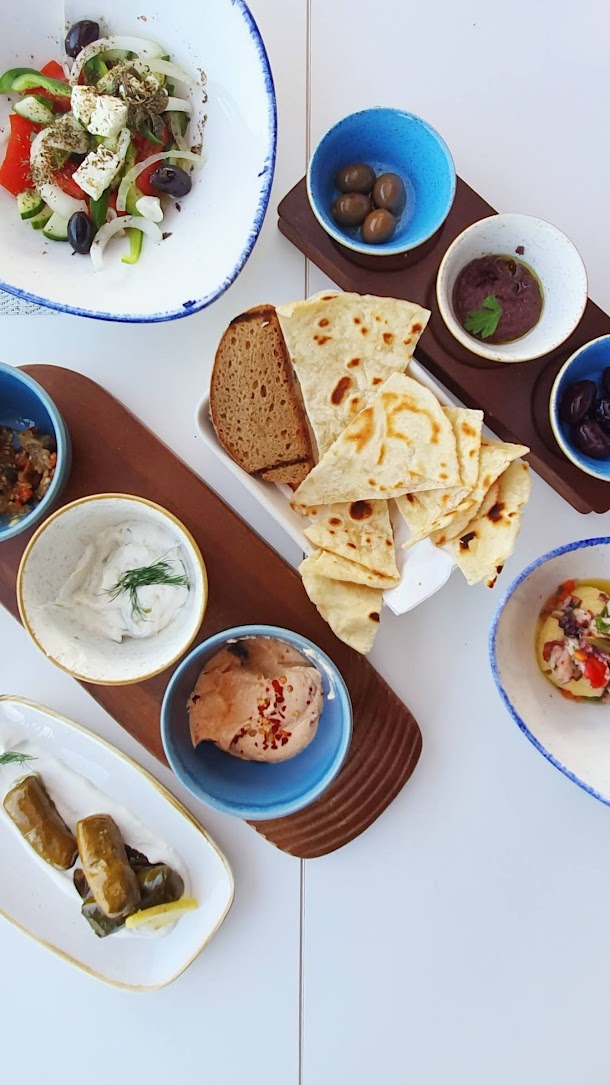 It's all Greek to you? No worries! The Greeks are warm, welcoming people and like getting close and intimate. The same can be said about the way they eat. Huddled around traditional tables and part wicker chairs, you'll see them sharing "mezedes".
Think "tapas" but taken to the next level. Main course? Who needs it when the table is filled with delicious, small dishes and a carafe of local chilled white wine? Lots of leaning over each other, talking, laughing, and living each moment for what it is. Simple living calls for simple eating.
Our Greek Restaurant, Votsala, is deeply inspired by this heritage. The local meeting point of any town used to be the "Bakaliko", the local grocer, who usually had a couple of tables and cooked for their few patrons with their fresh, local produce. That's why our restaurant is decorated with crates; 760 different sizes to be exact! And don't forget the shelves full of Greek products, harkening back to a tradition that started in the early 19th century.
We suggest you try our
mezedes
, a
Horiatiki
(your Greek salad whose beauty lies in its simplicity and fresh ingredients),
keftedes
(bite-sized meatballs), and a
poulada
(a roasted young chicken). For dessert, you could try
siropiasta
– filo-based based deserts covered in syrup. They're bite-sized clouds of pure, unadulterated joy. You can find them everywhere in Rhodes and are the ideal summery dessert to
share with your family
.
We then head west to Italy. Italian cuisine is renowned for being both strong and daring as well as refined and delicate. Bennini's beautifully combines the best of both mentalities by showcasing sophisticated, contemporary Italian decor in a lovely 380 m2 space that is located directly in the resort's main piazza. Inside, a sizable cedar log serves as the pizza bar top, dividing the open kitchen from the dining area and allowing the aromas to carry you to your favourite quaint Italian village.
Speaking of tradition, the tabletops are constructed of stunning Carrara marble. We also have long monastery tables made of solid wood and rusty iron that invite you to eat beside one another as is traditional in the Mediterranean region.
Our recommendations?
Freshly prepared, mouth-watering Bruschetta alla salsiccia, Pizza Prosciutto cooked in our wood oven, exquisite Pasta Carbonara, luscious Risotto al fungus and Tagliata di vitelo, delectable Chicken Parmigiana, and Tiramisu are just some examples of our delicious dishes on offer.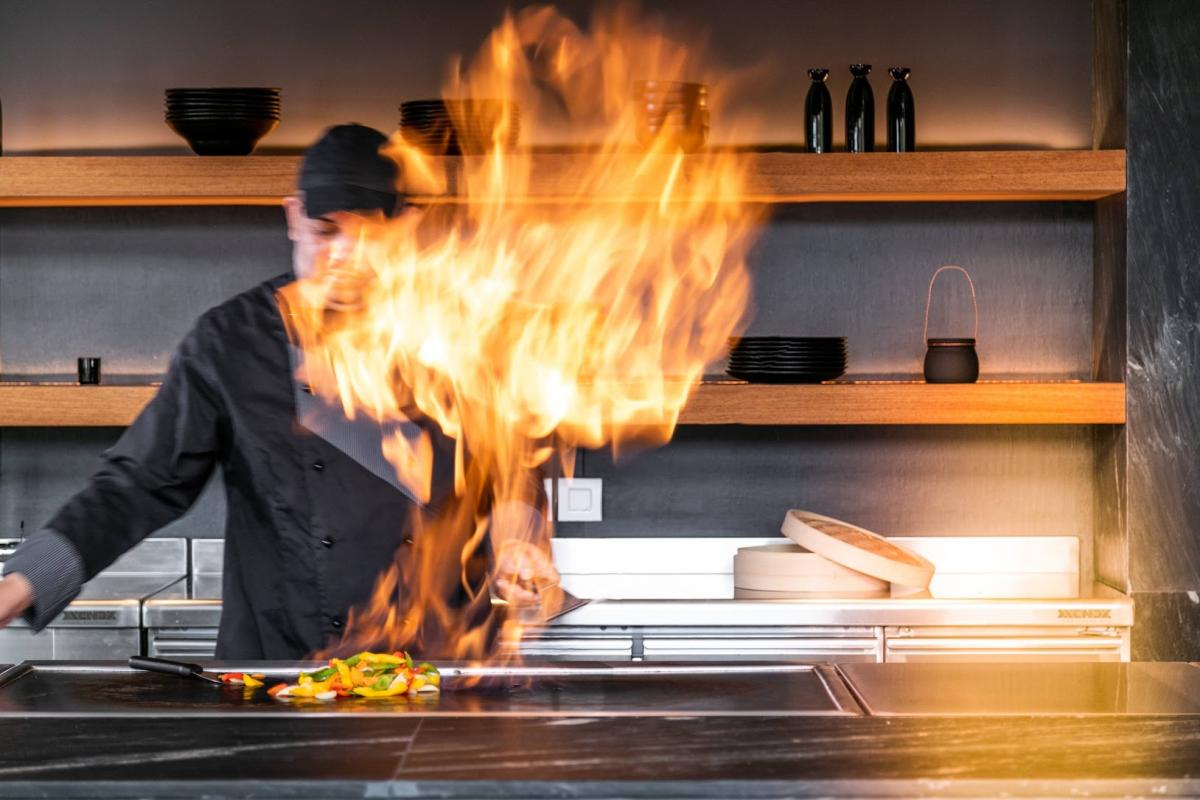 Time to head in the opposite direction, to a land of mystery. HAI is our pan-Asian à la carte restaurant and Sushi Bar. You'd be hard-pressed to find better Asian cuisine this side of the Aegean. HAI's philosophy is one of geographic exploration through culinary expression. You'll find a healthy Asian salad, crispy fried Thai fish, a traditional Chinese rice and shrimp dish, and Japanese sushi, all on the same menu!
For the more adventurous, there are also teppanyaki choices (available at an extra cost – but it's well worth it!). Cooking is turned into a performance, the roots of which date back hundreds of years. It's a combination of ancient Japanese cooking techniques and modern performance art.
Our favourite dishes are Spring rolls, Bao buns, Sweet & sour Chicken, Egg Noodles Mendake, Fried rice, and refreshing Matcha cake to end the beautiful gastro-journey to the East.
A dreamy seaside lunch to remember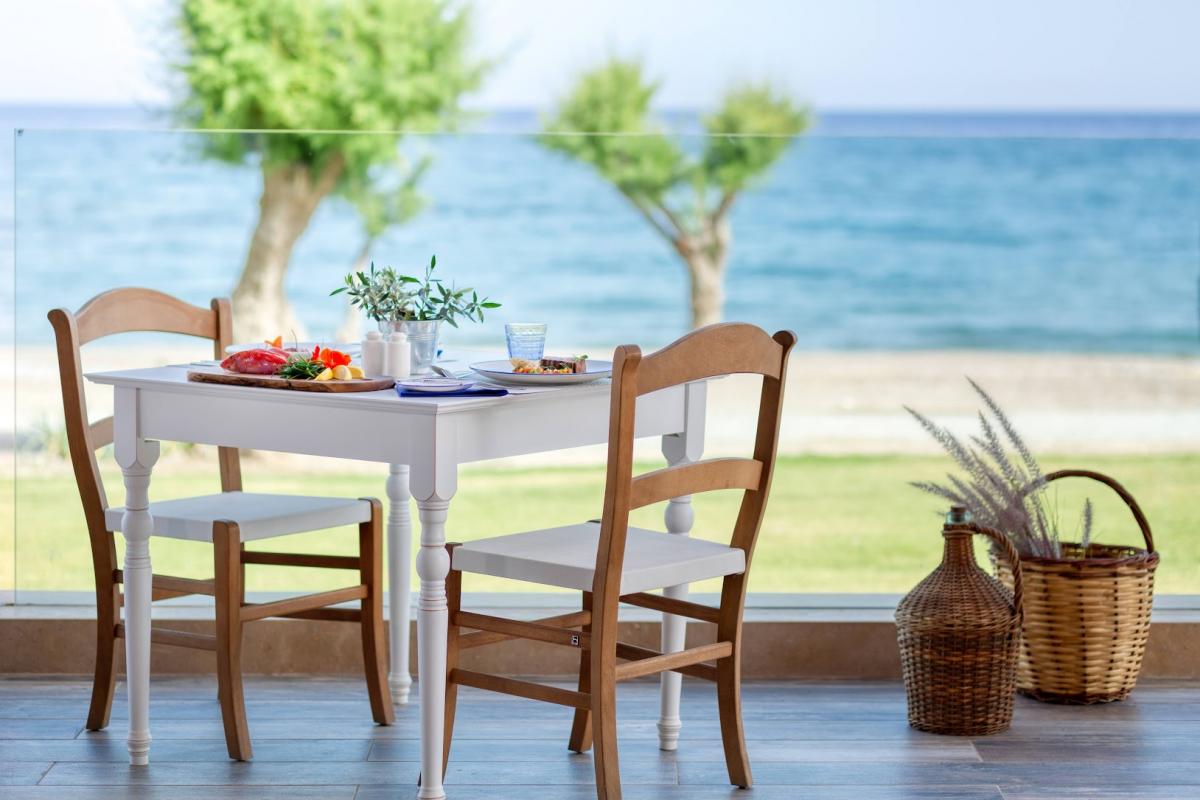 What would a trip to Greece be like if you didn't spend some time by the sparkling water, listening to the waves crashing, and experiencing the gentle summer breezes?
Votsala, our à la carte Greek restaurant, offers a genuine Greek experience. From 13:00 to 15:30 every day, you'll taste the Mediterranean like never before.
You do you, just the way you want
Vegan and vegetarian options are available on all menus and in all restaurants and bars, and after consulting with the Executive Chef and his team, customised meals can be supplied to visitors who have special dietary needs (lactose-free, gluten-free, etc.). To find out more, simply talk to the front desk!
For your sweet tooth too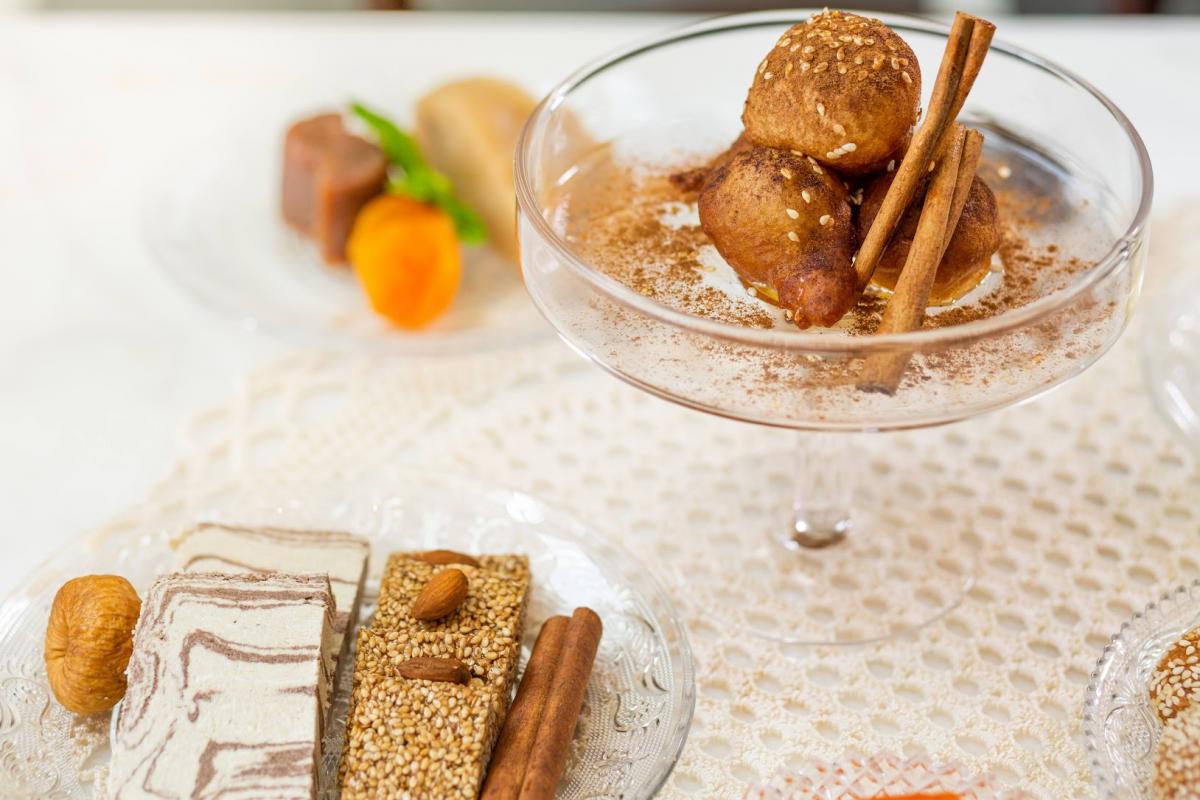 The most impressive aspect of the Amada culinary experience each year is the deserts. Our pastry chef will astonish you at every turn with delectable treats, like fluffy chocolate tarts and exquisite Greek-style syrup desserts!
Our personal favourite is baklava, a filo pastry dessert filled with chopped nuts and sweetened with syrup or honey.
Taste it, don't waste it!
We're there! At the end of this blog post but also our meal. Best not to waste another moment. At Amada Colossos we're committed to being more mindful of the environment. That's why we introduced a food waste initiative to our main restaurant. The environment needs us and we're all in this together.
So, what did we learn today?
We
learnt that eating together is truly wholesome and has the capacity to bring us all much closer. It promotes a
healthier lifestyle
, which we can help you achieve while you stay with us. Dining and wining are not the only fun activities at Amada Colossos though. Check out our
10 tips
to make your stay unforgettable!
We hope you share our vision too and to see you soon!