Welcome to our blog. Join us as we embark on a wonderful journey of discovery, shedding light on the beauty of the Amada Colossos Resort and Rhodes. We'll be highlighting news and events from our Resort and the area, making sure you're always up to date with the latest happenings. For our first post, we'll let you in on all the secrets to having a great time at Amada Colossos, thanks to the list we've assembled for you:
Rhodes awaits you with open arms!
With the Covid 19 pandemic still looming in the back of our minds, let us put you at ease.
Rhodes is safe for travel and all you need to pack is your passport! No PLF, no tests, nothing! Just you, your smile, and our 430m golden beach.
 
Pack the essentials
Beachwear? Check!
Flip flops and water shoes? Check!
You'll definitely be needing them to take full advantage of our waterpark and Olympic sized pool. If that's not to your taste, our private 430m, blue-flagged, golden beach goes on for as far as the eye can see. Don't take our word for it, The Sun listed the experience as one of the best waterpark breaks out there!
 
Protect yourself from the sun
Hats, sunglasses, and sunscreen.
The three most important items for a summer vacation in Greece. Spending time in the sun does our body a world of good but it's very easy to underestimate its power. As Rhodes is the island of the Sun, with more than 300 days of sunshine  a year, it's safe to say you'll get acquainted fairly quickly. It's no wonder Chris Charter from Money Week named us the "Goldilocks Resort."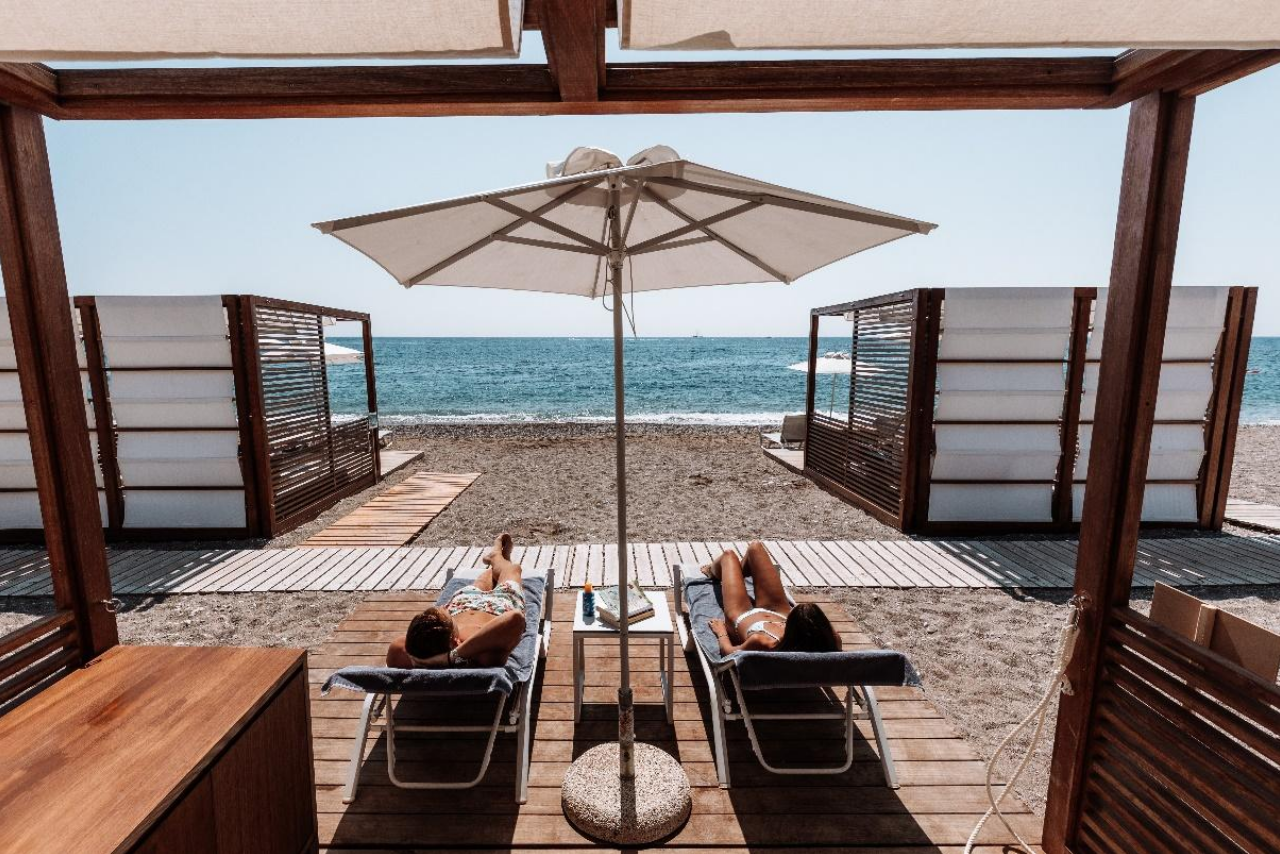 Dress(ed) to impress

Not only do we have three distinct a-la-carte dining options, enough to satisfy your tastes for domestic and international cuisine, but the dreamy décor owing to our recent redevelopment will inspire you to wear that beautiful summer dress you've been dying to show off. Let Hamish Kilburn from

Hotel Designs

guide you on this rich architectural journey so you know exactly how to match your surroundings.  

Spend quality time in private

The fondest memories are usually from our windswept and carefree childhood vacations. Book a private gazebo along our beach and let your children live this life-changing experience as you spend precious quality time with them. Build the largest sandcastle they've ever seen or play around in the crystal-clear sea. It's entirely up to you and even recommended by the

Times

.  

Pick a good book to relax with
Summer holidays for some mean catching up with their favourite books. Time to fully immerse yourself as you pick your ideal spot. Want to be by our majestic pool, a tasty cocktail in hand? Perhaps you want to feel the gentle summer breeze caress you on your private terrace. Or even from our relaxation room at the Amada Wellness Spa. No matter which spot you choose, you'll have the endless summer skies that inspired myths and legends to keep you company. 

Flip flops can only get you so far
Rhodes doesn't just offer you pristine, magical beaches and dreamy sunsets.

There is a wealth to see and explore inland on foot, particularly to the North at "Kallithea", an area known for its beauty, traditional character, and impressive colourful houses. Make sure to visit the ancient local hot springs that have been transformed into an exquisite place to visit for a swim and some light lunch.

Waterproof your phone & camera

You'll be amazed at how clean and clear the Aegean Sea is. The more you gaze into it, the more you'll be tempted to dive in, ignoring everything around you. Just remember to take your phone out of your pocket, or you'll miss the perfect opportunity to snap the ideal Instagram photo. Set sail on one of our day cruises and let our Amada sailboat take you to Rhodes' secret beaches to explore hidden wonders.
 

 

Blue is the new Green
Help us protect our beautiful sapphire seas by using reusable water bottles to stay hydrated. We are committed to protecting the environment in all our activities, from the Resort's architectural design that promotes the reuse of energy, to making sure the freshwater is recycled and used wisely. Find out more about our sustainability initiatives.
 
All you need is your smile and great attitude
We know things don't always go according to plan. That's why we've made it easy for you. From the moment you book, all the way up to where we bid you farewell and adieu until next time. With our flexible cancellation policy 72 hours prior to your arrival and no prepayment at the time of booking, there's not a lot to worry about. Just what to wear for evening drinks as you gaze out into the glistening sea.
That's it! You're all ready to experience something truly unique.
A summer holiday you'll never stop regaling to your loved ones. We hope to see you soon!